Anza's procurement platform helps solar module & energy storage equipment buyers see more and buy better.
Anza is transforming procurement practices to reduce inefficiencies, unlock value and reduce risk in solar and energy storage projects.
We help our clients take their procurement to the next level by:
Casting a wide net, providing a larger pool of solar or BESS options to choose from than they would otherwise have.
For solar module buyers, helping get the most project value from their selection by using Anza's Effective $/Watt calculation instead of only the lowest purchase price.
Using our technology to organize data and run analytics so buyers have a complete view of all the aspects of cost, revenue and risk to make the optimal purchase decision.
For energy storage, offering a sourcing and contracting model that is more cost-effective and flexible than buying a full wrap from an integrator or EPC. Our model also includes integration, augmentation modeling, EPC oversight and commissioning services from our world-class technical team.
BUYER BENEFITS
See More Options
Through Anza, you have a greater ability to see a complete view of the U.S. vendor landscape. We currently have 30 solar module supply agreements in place, covering about 95% of vendors. Our energy storage offering gives you greater flexibility and choice than traditional integrators or EPCs, to select the best manufacturers for your project. We are always in the market, working on multiple procurements, so this relevancy motivates our supplier partners to provide accurate availability and pricing. We are always on, keeping tabs on the market for you.
BUYER BENEFITS
Anza's Effective $/WattTM
The Anza Effective $/W calculation is the way you can easily compare PV modules based on value so that your module selection maximizes project profits. This calculation is made instantaneously in the Anza app specific to your project. It takes into account the balance of system labor and material costs of a module selection and the revenue differences from production and tax credit adders. Using Anza's Effective $/Watt can unlock hidden opportunities to increase profit. Learn more about Effective $/Watt.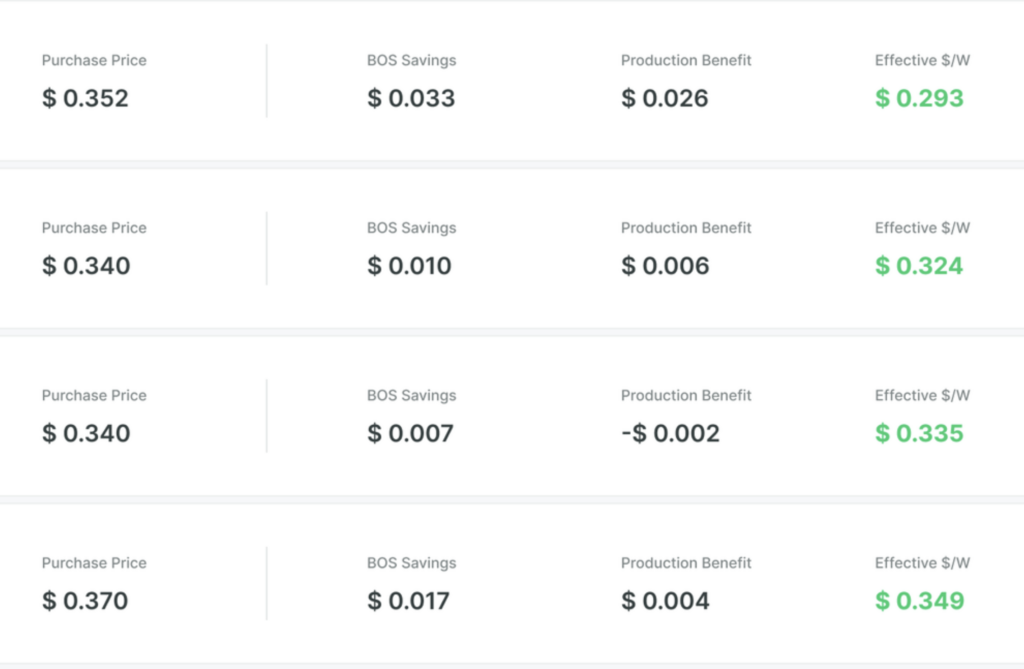 BUYER BENEFITS
More Data = Better Decisions
For the first time, Anza platform users have a tool to see all the technical, financial, supply chain and risk-related data required to make the right decision for their project and company. Anza's technology provides the analytics necessary to instantly compare solar module prices, the balance of system costs and production-related revenue between module options. Our energy storage platform instantly ranks equipment options taking into account both upfront and operating costs, including the optimal augmentation scenario. We are continuously improving our platform to show you more data in a useful and actionable way.
BUYER BENEFITS
Cost-Effective Energy Storage Equipment
Anza offers a new approach to buying integrated energy storage systems, saving you time and providing access to firm energy storage capacity at competitive prices. You'll have access to pre-vetted top-tier DC-integrated energy storage systems with attractive pricing and our world-class system engineering and commissioning support. Our model puts you in control, increases flexibility and saves money compared to purchasing a full wrap through a traditional integrator or EPC. Learn more about Anza's energy storage offering.
Learn how Anza can transform your solar & storage procurement.